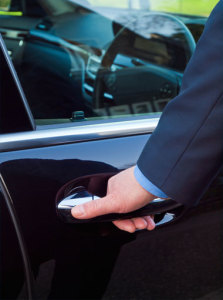 At Houston Airport Service in Houston, TX, we specialize in the best in professional transportation and chauffeur services. Our clients range from high-profile sports figures to politicians and corporate execs. The primary purpose of our airport car service in Houston is to provide a safe chauffeur service. Learn more about what you can expect when you choose our limo and town car services today. Finally, take advantage of this opportunity to pre-reserve a luxury car to pick you up at the HOU airport or the Houston Intercontinental Airport (IAH).
Why Go With Houston Airport Service
Our airport limo service in Houston is superior to other transportation services in many aspects. When you hire a private driver to pick you up from the airport in Texas, you have the services of a professional chauffeur. Unlike the services of a taxi or rideshare service driver, a chauffeur is your personal assistant. 
They provide valet services and may also handle personal appointments with the greatest privacy. A chauffeur driver is also prepared to conduct business transactions for you, such as by picking up orders or shopping on your behalf. You are essentially hiring someone to be your personal assistant when you hire a Houston Airport Service chauffeur. 
About Our Houston Airport Transportation Services
If you are interested in airport transportation Houston has what you need to get the job done safely and affordably. Enjoy the privacy and security of Houston airport transportation with our car service in Houston. We specialize in:
Houston airport car services
Airport transportation in Houston
Houston town car service 
Town car service in Houston 
Limo service in The Woodlands 
Allow our professional team of chauffeurs and auto maintenance experts to ensure you are picked up from the HOU airport or the IAH airport in Houston. With Houston Airport Transportation to and from the airport, you always arrive on time, safely, and in style. 
Why Choose Our Car Service for the Airport
There are many benefits to using a car service for airport transportation in Houston. Along with eliminating traffic and parking expenses, you can avoid having to rent or lease a vehicle while in town. You can easily climb into a luxury limo and be whisked off to your next location. Avoid receiving unwanted attention as a celebrity with the use of a professional chauffeur and limousine driver. 
Cut out time spent route planning and trying to drive yourself to your various destinations. Instead, invest in the services of a car service in Houston and have professional transportation to the airport. By opting for our professional airport transportation Houston will be a much easier metropolitan area to cover. Whether you are in the city to work or you have a new investment opportunity, being able to get to Point A to Point D with ease and as quickly as possible is important. 
Whether you are reserving your first limo ride to the airport, or you have been searching for a better provider of luxurious transportation services, we are here to help. Our fleet of vehicles is well maintained by our team of mechanics and drivers. We handle everything that you need as your leader in concierge and chauffeur services in Houston, TX. Let us show you how to arrive with your best foot forward today with a booked reservation for airport transportation.
Book Houston Airport Transportation Today
Our Houston airport limo and airport transportation services, including town cars and Suburbans, are readily available for your transportation needs. Contact our office at 281-864-0651 or email us at info@houstonairportservice.com to book your reservation for a chauffeur. Our services include professional airport transportation to and from Houston, and throughout the US.